KAFFERGAON: Kalimpong's Hidden Gem
Kaffergaon is an offbeat place in North Bengal. which is located near Kalimpong. Kaffergaon is 31 km from Kalimpong and 5 km from Lolegaon. Kaffergaon is a destination for nature lovers.
A flower is found in this Kaffergaon, whose Lepcha name is 'Kaffer'. From here, the name of the village became Kaffergaon.
The place is a tranquil paradise that offers tourists a glimpse of the majestic beauty of the Eastern Himalayas.
With its surrounding green hills and scenic views, Kaffergaon can be an ideal place for you to escape the hustle and bustle of city life.
Kanchenjunga can be seen very well from this small village. Moreover, there are very nice homestays here that will make you feel like you are staying at home.
How do I reach Kaffergaon?
By Air: The nearest airport to Kaffergaon is Bagdogra Airport in Siliguri. From here, you can hire a taxi and reach here directly.
By Rail: The nearest major railway station from here is New Jalpaiguri (NJP) in Siliguri. From there, you can also book a personal taxi to reach here.
Kaffergaon can generally be reached from two directions. It can be reached either through Lolegaon or Kalimpong. If you are a budget traveler, then you can reach Kalimpong from Jalpaiguri or Siliguri by taking a shared car, and from there you can hire a car to reach Kaffergaon; the cost of the car is a little less.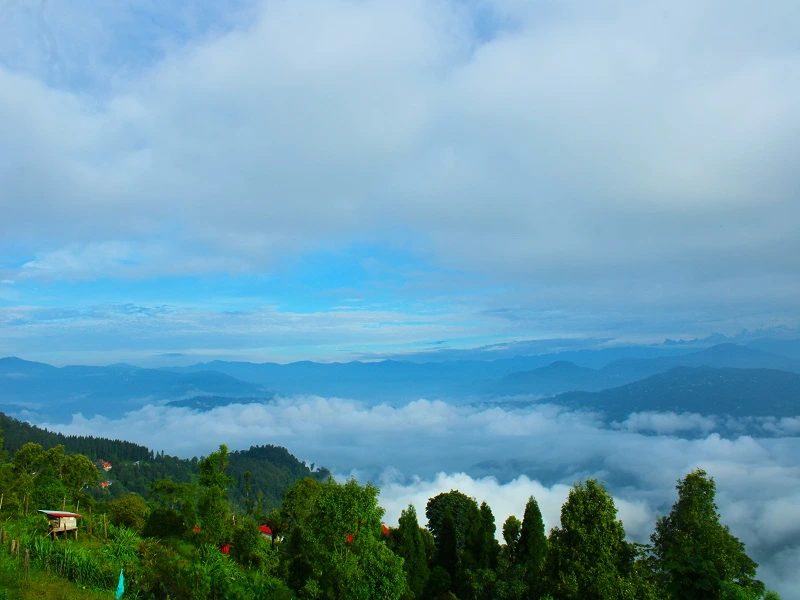 The Best Time to Visit Kaffergaon
Spring (March to May): This is one of the best times to visit Kaffergaon. The weather is pleasant, the flowers are in full bloom, and the natural beauty increases.
Monsoon (June to September): It receives substantial rainfall during the monsoon season. Heavy rains can sometimes cause landslides and disrupt transportation. For this reason, it is not a good time to visit, but if you can deal with the rain and possible transport problems, then it is not a bad time either.
Autumn (October to November): Another great time to visit. The sky is clear, and a beautiful view of the Himalayas can be seen. Temperatures are pleasant during the day, although nights can be a bit chilly.
Winters (December to February): Winters here are cold. Kanchenjunga can be seen very clearly at this time. However, make sure you are suited for the cold weather.
Best Things to Do (Activities)
Village Walk: You can explore the village by walking. Enjoy the natural beauty and ancient Himalayan heritage here. Talk to the people to know their culture. Remember, when exploring remote areas, to always be respectful of local customs and traditions.
Local Activities: Here you can do some local activities, like visiting a local monastery or a local school. Moreover, you can have campfires and barbecues in the evening.
Small Trekking: There are some small trekking arrangements from here, and those who love to join can also come here and do trekking
Relaxing: Many come here to relax for 2 to 3 days. Relaxing in a Himalayan village is not just about physical relaxation. It is a wonderful experience that calms the mind, relaxes the body, and enriches the soul.
Camping: There are good camping facilities for those who prefer to stay in tents or for those who like adventure.
The Nearest Place to Visit
Lava: This is a small village located near Kalimpong. Lava is a popular destination for bird watching, is home to the Newra Valley National Park, and is very close to Kaffergaon.
Lolegaon: This is a scenic village with a famous canopy walk over ancient oak and cypress trees. The panoramic view of the Kanchenjunga range is a highlight here.
Charkhole: The village is located at an altitude of about 5,500 feet in Kalimpong district. Charkhol is a serene and picturesque village famous for its scenic views of the Himalayas, including the majestic Kanchenjunga. The place is very close to Kaffergaon, at a distance of only 14 km.
Pabong: This place is also very popular with tourists. Kanchenjunga can be seen very well from Pabong village. The village, full of natural beauty, is very close to Kaffergaon.
Rishop: Another serene village situated at an altitude of 2,591 meters, Rishop offers breathtaking views of the Kanchenjunga. You can visit Rishop from KaffeKgaon.
Kolakham: A village near Kaffergaon, situated in the Neora Valley Forest area. The place offers a wonderful view of Kanchenjunga.
Panbu Dara: This place has now become a very popular place for tourists. Famous for its panoramic Kanchenjunga and Teesta river views from Panbu
Best Accommodation (Homestay in Kaffergaon)
The weather is quite cold, especially in the evening and early morning. Wear warm clothes, even if you come in the summer. Be sure to take comfortable trekking or walking shoes.
Kaffergaon mainly offers homestays. It is recommended to book your accommodations in advance, especially during peak season.
Take the local dishes, which are mainly Nepalese. You can pick up local items like momos, thukpa, and rice dishes with vegetables.
While some places might accept digital payments or cards, it's always a good idea to have enough cash on hand.
Carry your basic first-aid kit and any personal medications. The nearest significant medical facility may be quite far away.
The local people are warm and welcoming. Always be respectful of their traditions.
Mobile network coverage may be low. Inform your loved ones about connectivity issues in advance, so they don't worry if they can't reach you for a while.